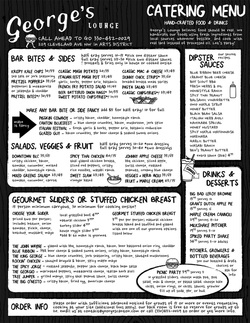 For your special event or casual get-together, we offer the best of George's menu and some special options created for large groups. Start with a selection of our popular bar bites and dipster sauces to please the crowd. For the main event, choose between
Geormet
sliders (grass-fed beef, turkey, or veggie) or
Geormet
stuffed chicken breasts. Either option includes our hand-crafted topping combinations. Pair the entree with your favorite sides and sauces from our menu. And don't miss our special drinks and desserts to make the meal complete.
Click on the catering menu picture to see all the details and decide which hand-crafted food and drinks you would like to order. Catering options are available to groups holding events at George's (have you checked out our party room?) or at your location.
A few food and drink options are limited to events held at George's only (as noted on the catering menu). We can deliver or prepare food at your location for an additional fee. Please provide advanced notice. Contact with the form below when you are ready to plan your event and we'll help make it rock!
---
Catering Tips for a Fun Event


Be different - enough with the rigatoni and green beans...unless you're actually trying to limit the guests that show up.

Have fun - every event doesn't have to be a formal occasion. Create a more casual vibe guests can enjoy.
Go with gourmet classics - there are some foods everyone loves and with special toppings can knock their socks off.
Call George's - we know how to make mouths happy. We've even got a couple tricks up our sleeves if you want to make it extra special...